Garage Door Opening System without using your remote control
Date Posted:2 February 2018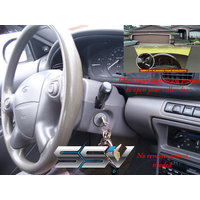 VDO has produced the Garage Door opener without using the remote control.
This is a significant step forward in convenience and security of entering and exiting your garage or property. With this system you have now fully integrated your car with your home by integrating the activation of your garage door opener remote into the high beam switch of your signal lever.
You dont have to worry anymore about broken remotes. No more fumbling in the dark to find the garage door remote control. Increase security by using your car to control your garage door. Just flash your high beam lights and your garage door will open for you automatically without using your remote control. How many times have your kids lost the remote control or have broken it. Well you dont have to worry any more because your car will automatically open the roller door for you.